Why should everyone read your book?
One reader review put it this way, "Readers will love Jack Canon from the very first pages. He is confident and ready to fight for his dream. He has wanted to change this cruel and unjust world since he was 10 years old. Now he has a real chance to make a difference and he's not going to let it go. America needs such a man. So, if you're …indignant at what is currently happening, then you're going to love this amazing character.
Do you ever experience writer's block and how do you overcome it?
I don't get writers block because I wait until the story literally explodes onto the page.
What is your favorite part of the process of writing a book?
I love when the characters seem to come alive. It starts to happen after the first few chapters. Then when the books half way done, and you get a chance to read it from the beginning. The characters personalities take shape and help the story with their distinct feelings and mannerisms. That's my favorite part of the process. Overall the best part is sitting down to read the completed book.
If your book was made into a movie, who do you picture playing each part?
My sister-in-law has already chosen Ben Affleck to play Jack Canon. Funny – I took the first draft to Disney. At first she didn't have any interest, but my mother-in-law was reading and commenting – enjoying the story. So, my sister-in-law, Terri, picks up the pages mom had finished and turned them quickly – long story short – she ended up loving Jack! She bought a kindle just to read the final version. I figured Katherine Heigl could play Sandy. Sandy is blonde and beautiful and fixes herself up to look like Marilyn Monroe for Jack. Daphne Cole is going to be tough to cast being the most beautiful woman perhaps on the planet.
Tell us more about your main character, Jack Canon! What would his dream holiday destination be? Which celebrity would he love to meet in real life?
Jack Canon is an idealist, he wants to make the world better for all people. His dream holiday would be a week in the mountains, waking up early to watch the morning sunrise. Jack's favorite celebrities are Anthony Hopkins, he thinks he'd be a good billionaire financier Gene Hobbs in the story. He likes Katherine Haigle because she reminds him of Sandy Collins his beautiful assistant. He also likes Denzel Washington and Tom Hanks for their incredible performances.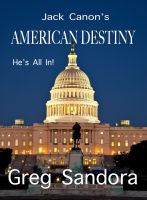 Buy Now @ Amazon & Smashwords
Genre – Political Thriller
Rating – PG
More details about the author & the book
Connect with Greg Sandora on Facebook & Twitter
Website http://www.gregsandora.com/
Quality Reads UK Book Club Disclosure: Author interview / guest post has been submitted by the author and previously used on other sites.