Tell us about your new book. What's it about and why did you write it? 'The Final Straw' explores the dilemma – could YOU love a stone-cold killer? An only child, unloved and unwanted by his parents, Colin Bailey is a bitter, emotionally damaged young man, hell bent on exacting revenge on anyone who has stopped him becoming the person he believes he was destined to be. What sets Colin apart is his intellect and meticulous planning. Detective Phil Hounsell pursues his man relentlessly, while trying to prevent the small town in which he works sliding further and further into the grip of two rival gangs.
A devastating event in Colin's life provides the final straw that herald's a bloodbath. Can Phil stop it happening or will he too be a victim?
Actually, I never set out to write this particular book! Without spoiling it for those who haven't read it yet, one of the victims was due to be the one and only casualty of Colin Bailey's act of revenge. I had an idea about eighteen months before for a story about a middle-aged guy who stalked a teenage girl on Facebook
after
she had blocked him. I did a lot of research on how this might be achieved, then wondered whether I should fill in the 'back-story' of his life first. As soon as I wrote the first line 'Colin Bailey was invisible' then 'The Final Straw' wrote itself! Spooky!
Tell us a bit about your family? I've been married to Lynne since October 1971. We have 3 married children in their early to mid-thirties. Between them they have produced four grandchildren so far! I have one brother Bob who is married to Gaye and they live in the West Midlands, England.
What makes you happiest? Listening to loud rock music and drinking red wine. These two things don't have to be at the same time, in fact quite often, I'll have Jack Daniel's & coke instead, but the music must still be hot & heavy!
Have you always enjoyed writing? My mother started my love of words and books from the age of about four. Two of my aunts were school teachers and by gas light and candle light on occasion, we'd spend hours battling with our cousins over word games they conjured up for us to stretch our vocabulary. There were very few TVs about in those days! It was a natural progression to read voraciously as a teenager, and then start to write for myself. In those days it was poetry that occupied my pen, then life got in the way and I only started writing again six years ago.
If you could have a dinner party and invite anyone alive or dead – who would you ask and why? Rory Gallagher, Jimi Hendrix, John Bonham and John Entwistle to discuss the forming of a supergroup
'Last Throw of the Dice' and try to convince them they needed another vocalist.
How important are friends in your life?
New ones are vital! I made good friends at school, socially, through work and recreation and over time some friends move on, never to be seen again, others eventually pass over. I have never worried about how many friends I have at any one time. I give any relationship 100% and expect the same in return but I never hanker for 'the old days' and getting back together for school reunions or the like. I'd rather look forward to the possibility of the next person to walk through the door to turn out to be my new 'second best buddy'. Whoever they are, they'll always have to defer to my
best
friend – Lynne, my wife.
What is your favourite quote, by whom and why? 'We are what we repeatedly do. Excellence, then, is not an act, but a habit.' Aristotle.
I have always felt that if I keep doing what I believe to be right, in whatever venture I undertake, eventually I will reap the rewards. I never give up.
When and why did you begin writing? In 2006 we were on holiday in Ibiza and we met two young American girls, a long way from home, who stopped to have a drink with us in a bar one evening. They listened with great interest to some of my stories from my time in groups back in the day and when I got home, a friend Tom Sangster asked me if I had any of these stories written down, for posterity. I laughed. He said it would be a shame if they died with me and other people didn't have the chance to share them, particularly my children and grandchildren. So I relented and started from the beginning and trawled through those that were fit to print until my singing days were over. It was four years before I got the book published, partly due to my laziness, partly due to the recession. I haven't stopped writing since 2011.
Who designed the cover?
I was really lucky there. I searched for cover designers in the UK and their prices were out of my price range. I chanced upon
www.bookcovers.us
and a delightful young lady called Melissa G Alvarez. She had a range of options, catering for the thrifty author on a limited budget like myself and the upper end of the food chain. She gave me four basic cover designs based on my book 'blurb', allowed me a couple of revisions, then in days I had my cover at a price I was comfortable with. Melissa even managed to capture Colin Bailey as I had imagined him. If the book sells well, then the cover will play a significant part. If there are further books, I know where I'll be going for my covers!
Where do you see yourself in five years? At almost sixty-eight I don't look too far ahead!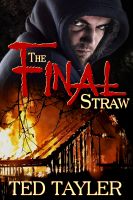 Genre – Crime / Thriller
Rating – 18+