What is your least favorite quality about yourself? I can be impatient, and sometimes my attention span is really… oh, shiny.
What is your favorite quote, by whom, and why? "Love all, trust few, harm none." William Shakespeare, All's Well That Ends Well
What are you most proud of accomplishing so far in your life? Publishing my debut novel, Lichgates. I cried a little when I held the print edition in my hand for the first time. It was a dream come true, and I think a part of me was always afraid it was a pipe dream. But it happened, and I'll continue to write and release novels throughout my life.
What is your favorite color? Green.
What is your favorite food? French bread.
What's your favorite place in the entire world? My husband's arms. (Blargh, I know, but I'm gooey.)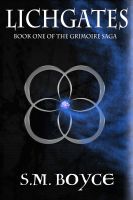 Buy Now @ Amazon & Smashwords
Genre – Fantasy
Rating – PG13
More details about the author