Do you recall how your interest in writing originated? Earliest I can remember there was some kind of writing test in 4th grade, we had to write a story in this booklet that was included within a time limit, and when the time limit expired I was pissed off because I wasn't done yet.  I felt strongly that I really needed to finish telling about the alien invasion of an ice cream factory.
When and why did you begin writing? I can't remember exactly when or why I started, I don't know.  Never really thought about it.  I would think of stories and want to write them down so I wouldn't forget about them.
How long have you been writing? Since I was a kid.
When did you first know you could be a writer? Well, as a kid when I was asked what I wanted to be when I grew up I'd answer X-Wing Pilot.  I guess writing was sort of a Plan B.
What inspires you to write and why? Everything.  Could be riding the city bus, watching TV, working, lying and then some thoughts come together with an almost audible click.  A light bulb appears above my head sometimes, which can be awfully inconvenient if you're trying to sleep.
What genre are you most comfortable writing? Horror, sci-fi, fantasy, kung-fu, a mix of all.
What inspired you to write your first book? The book I recently self published is a collection of short stories.  I was in a writing class in high school and my senior project was supposed to be collecting some short stories together, and when I turned thirty I thought I should really finish that project.  I hope it still counts even though I turned it in late.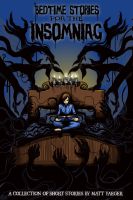 Buy Now @ Amazon & Smashwords
Genre – Horror
Rating – PG13
More details about the author
Connect with Matthew Yaeger via Twitter